What do we need to know about saunas to be all in?
So during COVID, if you read my blog regularly, you know I got so sick, so sick I invested in an ozone generator. I had been using a HOCATT at my chiropractors and making great progress and I wanted to continue that at home.
Where do you start?
At the time, before I plucked up the courage to purchase my beloved all-in-one far infrared sauna, and before I purchased a MiHigh Portable Sauna Blanker, I decided to check out a portable sauna cupboard. This was my dipping my toe into the wonderful world of saunas, it was relatively inexpensive and it seemed easy to store when not in use.
Initially, after much contemplation about EMFs and plastic/non-natural product toxicity especially when using heat, I purchased this OPPSDECOR Portable Steam Sauna Spa Personal Sauna Tent for Relaxation at Home,  OPPSDECOR Portable Steam Sauna Spa Personal Sauna Tent) One-Person Indoor Sauna with Remote Control, Foldable Chair, and Timer.
I actually was quite happy with this portable sauna and used it several times before deciding to move on to the Portable Sauna Blanket. This was a great inexpensive way to get into a sauna and figure out if I actually liked it. Ultimately. what I discovered was that I liked a dry sauna more than the steam sauna, and that's what moved me on but I keep going back to this one to consider modifying it for ozone use. I honestly would love to buy one of the hardshell sauna units but as I have limited space and I already own several different versions of saunas I think I have to be ok with where we are at. Is there a limit to how many saunas one can own?
So I have been searching for different products to modify for use with ozone, if I decide the one above won't suffice, and I found a good alternative on Amazon. It is a little cheaper than the one I purchased and is more of a closed system which might be beneficial. However if I were doing ozone, I would want to have a very efficient mask or better, my head to be out like the above sauna tent. But this Smartmak Portable sauna is a great alternative. Smatmak Portable Steam Sauna Spa Personal Sauna Tent Sauna Steamer (Smartmak Sauna Steamer) and Chair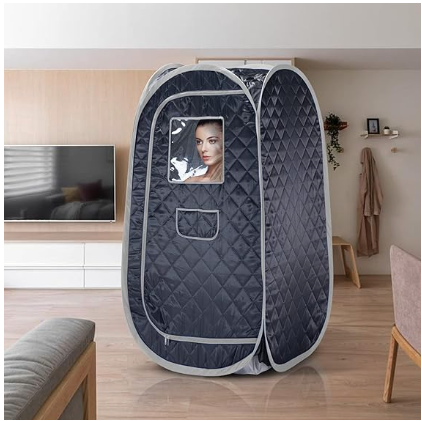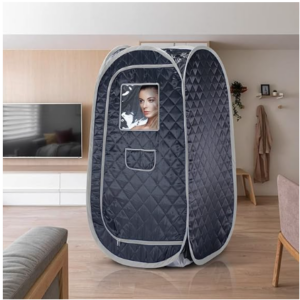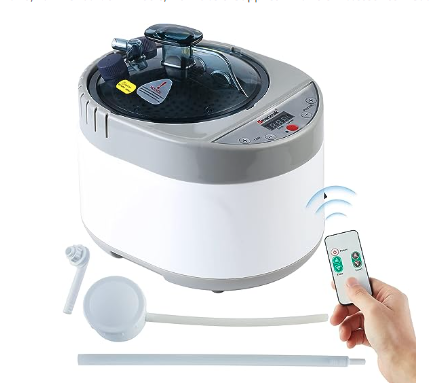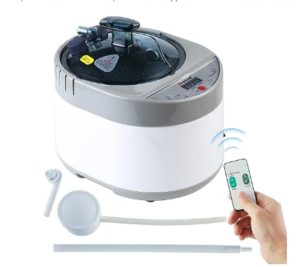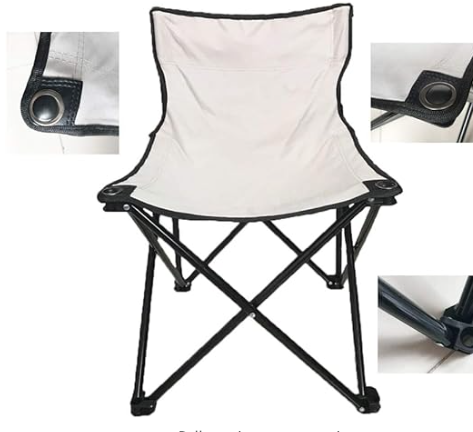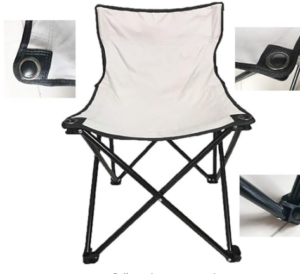 Why do we even need a sauna?
As a health supplement advocate and wellness enthusiast, I've always been on the lookout for effective ways to enhance my overall well-being. That's what led me to purchase a sauna, and I couldn't be happier with my decision. Here are the reasons why I personally chose to invest in this addition to my daily routine.
Detoxification and Cleansing: Saunas are renowned for their ability to help the body rid itself of toxins through sweat. This natural detoxification process not only leaves me feeling refreshed but also promotes better health.
Stress Relief: In the fast-paced world we live in, stress can take a toll on our mental and physical health. Stepping into my sauna allows me to unwind and de-stress, leaving me with a sense of calm and tranquility.
Enhanced Skin Health: Sauna sessions boost blood circulation, which results in a healthy glow. My skin feels rejuvenated, and I've noticed a significant improvement in its appearance. I also use a dry exfoliating brush to keep my lymph moving.
Weight Management: For those looking to manage their weight, saunas can help. The increased heart rate and calorie burn during a session contribute to a healthier weight management strategy.
Immune System Support: As a health supplement advocate, I understand the importance of a strong immune system. Regular sauna use is shown to bolster the body's natural defenses against illnesses.
Convenience at Home: Having a sauna option at home is incredibly convenient. I can enjoy all these benefits without the need to schedule spa appointments, making it a practical and time-saving choice.
Really, my sauna routine has become an integral part of my wellness routine, helping me achieve my health and wellness goals. It's a valuable investment for anyone looking to prioritize their well-being. Whether you're a health-conscious individual, a busy professional, or simply someone seeking relaxation, a sauna can be a super helpful addition to your journey to a healthier, happier life.
Disclosure: This blog post contains affiliate links from Amazon.com. As an Amazon Associate, I earn from qualifying purchases. This means that if you make a purchase through these links, I may earn a small commission at no additional cost to you. I only recommend products and services that I personally use or believe will be beneficial to my readers. Your support through these purchases helps me to continue providing valuable content on Loving The Spectrum, rest assured, I still have to work a day job :D. Thank you for your support!