Neuroimmune CME Series
This is truly a unique opportunity and undoubtedly the best $30 I might invest this year. I am inviting my general physician to listen to the first of 4 presentations about Neuroimmune disorders presented by those who work in this field every day.  The Foundation for Children With Neuroimmune Disorders has a fantastic line up of speakers this year, each adding to the discussion about what happens to our children's neurology when their immune system goes awry (spoiler alert): "A manifestation of neuropsychiatric symptoms explode, chaos ensues and the family is thrown into lab testing and doctor shopping hell." PANS, PANDAS, Neuroimmune Disorders, autoimmune encephalitis and other mental health disruptions are still commonly misdiagnosed by the medical field today.
BUT it doesn't have to be that way.
This series of webinars will explore "Present and Future Research Priorities in PANS: Inflammatory Markers, Immunological Pathways, and the Influence of Co-Morbid Conditions." January 29, 2019, 5:00 pm CST presented by Dr. Jennifer Frankovich, MD, PANS Program Director and Associate Professor, Pediatric Rheumatology, Stanford Children's Hospital.
Followed by Dr. Richard Frye, MD, PhD. Chief of the Division of Neurodevelopment Disorders, Phoenix Children's Hospital. "Understanding The Overlap of PANS and Autism – The Significance of Antineuronal Antibodies in Patients With Autism" March 12, 2019, 7:30 pm CST.
Dr. Dritan Agalliu, PhD., Assistant Professor of Pathology and Cell Biology in Neurology and Pharmacology at Columbia University. "Disease Mechanisms and Potential Therapies For Immune Dysfunction in PANDAS/PANS – Lessons from Animal Models." May 15, 2019, 6:00 pm CST
and finally Dr. Kiki Chang, Child Psychiatrist, Former Professor of Psychiatry and Behavioral Sciences, Stanford, Co-Founder, Stanford PANS Clinic. Review of Expert Consensus Treatment Guidelines for Youth with PANS: Focus on Combining Psychotropics with Medical Treatments. August 27, 2019, 7:00 pm CST.
Each webinar is a CME opportunity for those who need them. Sign up here: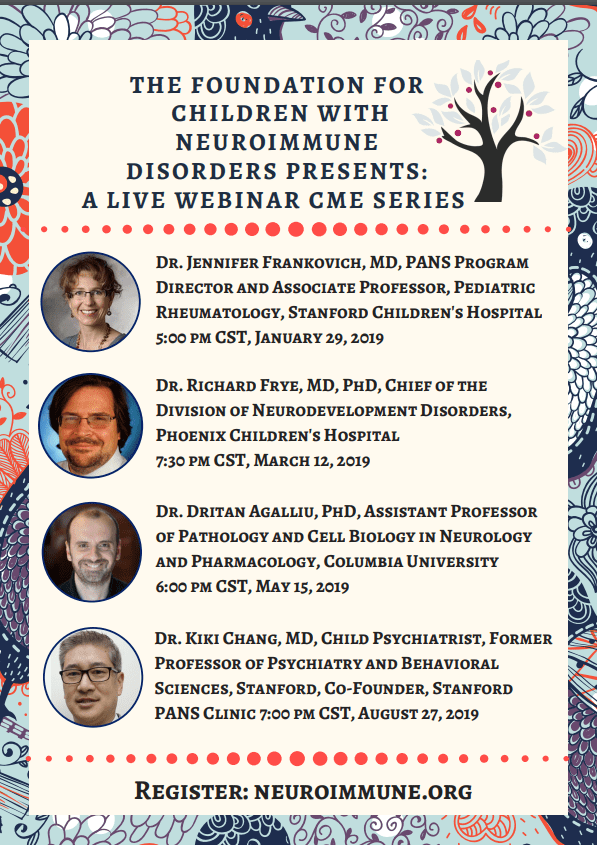 For those needing financial consideration, please email cme@neuroimmune.org to make that request